GASTBEITRAG

Mägi und Dave:

Three Ouzo´s and a wedding

Friday 1. December

First time in Athens airport. It's very old but it's easy to find your way around. Everybody seems more helpful than in the larger "first world airports".
Ouzo number 1 at the small snack bar together with a piece of spinach pie and a beer. Late arriving but the connecting flight to Rhodes is also a bit behind schedule so it's no problem.
Arrived at the airport in Rhodes. A little bit different from the summer because half the arrival hall is closed but you come through much faster, no tourists!
Jiannis was waiting for us and wanted to go as he thought we had only hand luggage, which we had taken into the plane. He had a shock when he saw the two suitcases with the Christmas presents and other gifts.
With little formality and a half kilo Swiss chocolate as a present for his children we were off to our apartment.
Driving along, we noticed that there were hardly any cars around.
Colonial ApartmentsSteve was waiting with the beds ready made and more important, cold beers in the fridge! Just time to unpack our suitcases then off to our friends in Afandou.
Linda is a girl from the North of England and married to a Rhodian named Lefteris, a cousin of the bridegroom. They were by us in Switzerland earlier this year on holiday. We were happy to see her as we could bring the Christmas presents and that meant we had already room in one suitcase for something to take home. I have to say at this point that we were overweight at Zurich airport for just five days holiday!
Every time we go to Rhodes we say that we will not bring anything back, but its no use, we are always overloaded with presents.
We had a Pizza, yes, I know that is against all the rules, but we were hungry and we promise it wont happen again.

Saturday, 09.00 h
Blue sky, sunny, 22°. Steve's mother is picking Olives out the back. Drove to the airport to change money and then to the supermarket. Many less cars than in the summer. Nice to drive around like this.

Wedding preparations
The parents of the bride and bride groom decided to stay with the tradition and cook the food themselves. Arrived at the grandparent's house in Afandou to find about twelve women of all ages sitting on small wooden stools in the street preparing vegetables. They had to prepare 40 kg of onions, 150 kg of potatoes and about 80 kg of meat.

The small house of the grandparents, the two rooms and the patio were turned into a kitchen. Before we could help we were taken next door to Lefteris parents house where we had a traditional Saturday meal of dried beans and meat cooked in a tomato and olive oil sauce. Don't miss this! The meal is cooked with the local bread in their own large ovens outside the houses. The wood they use is from olive trees. The father of Lefteris said the oven cost about DRS 400'000. It's so big you could cook a whole pig inside. Ouzo No. 2!
Back to cooking for 700 guests! Onions to be cut, potatoes to be peeled and rice to be sifted. The mincemeat was cooked by two women who took much trouble to get the flavour just right before giving it to the neighbours to finish it cooking.
They prepared the dishes half cooked in large deep trays that are used in hotels. About 9'o clock at night they finished and the trays were taken to the local bakery which had enough ovens needed to finish cooking the meal the next day before it was delivered to the reception hall.
Paneotis came and took us to his new home where his bride to be had just finished decorating the apartment with flowers. The night before, the house was turned upside down by friends. To ensure this would not happen again he changed the lock on the door. As a complete surprise we are invited by himself and Chrysoula for a meal tonight.
16.00 h, Afandou square
Greek coffee and Ouzo No. 3. Very nice meal at George's Taverna at the main road just outside Afandou. We had mussels, cheese balls, Dolmades, salad, chips, soup with meatballs (half rice - half meat on a white sauce) and beetroot salad with a mash potato garlic dip. Retsina of course, great!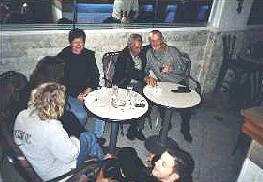 After the meal we picked up Linda and went to Afandou Square for Greek coffee and Ouzo No. 4. As we drove from the square we saw Billis (an old gardener and old friend who works in a hotel complex). 8 o'clock every morning he goes to a certain Taverna for a Cognac. He always drinks it from an expresso cup so that the boss doesn't notice. On holiday we always try to join him. He likes it very much. We don't speak Greek; he doesn't speak English or German, so we try in Italian. It works! He wasn't surprised to see us, he was already informed. As you know this happens all the time here! In the restaurant we saw people we knew: "Why didn't you come and see us, you've been here since Friday"! Very well informed people again! Watched the Greek equivalent of Musikantenstadl on the TV and went home to bed. Great day!
Sunday, 08.00 h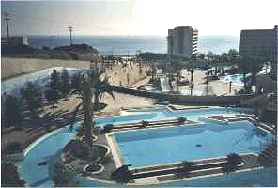 Drove through Faliraki. It's great, no noise everything is closed. The Faliraki road towards the hotels is closed because they are putting in a new sewer pipe. Went quickly to the Water Park. Very impressive!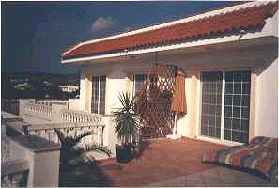 We drove home to the apartment and had just started to sunbathe when Steve called and asked if we would like to go with him and pick olives. It would have been nice but today is the wedding. Nice and warm, about 25°.
It's 10.00 h and the priest should be arriving at the new home of Paneotis to bless everything in the bedroom. Afterwards one of the bridesmaids takes Paneotis shoes and suit to his mother's house. 12.30 h Kalithies
Having a drink in a bar "green- and cream-coloured" (Detlef will know which one). Suddenly someone arrives selling freshly caught fish from a truck. Soon people and cats surrounded him. He threw the damaged or small fish into a bucket on the ground and it was funny to see the cats taking the fish out with their paws. After a nice walk around the town, time to go home and get ready for ……