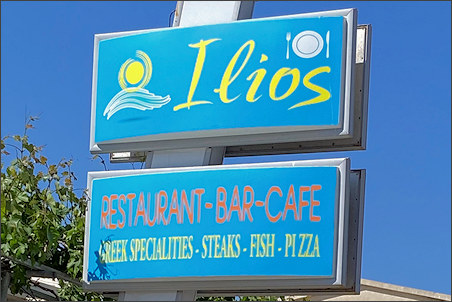 (Rhodes, Faliraki - near by Hotel Esperos Palace)
Klicken Sie bitte hier:

für die Version in deutscher Sprache.

Visit our

Café-Bar with Restaurant service
"Helios" (Ilios)

in one of the numerous beautiful evenings.

Let the day finish in pleasant atmosphere and with excellent drinks.
We offer you many delicious cocktails and longdrinks, different beers, wines, alcoholic and non-alcoholic drinks.
Also you can get coffee (filter coffee, cappuccino, frappe and ice coffee) as well as pastries and different ice-cream cups.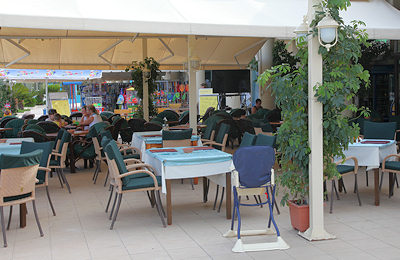 A view in our list of drinks:
International and Greek beer of the barrel, also various bottled beer.
Champagne cocktails, ice-cream cocktails, non-alcoholic cocktails.
Cocktails with vodka, gin, rum, tequilla or brandy.
Cognacs, whiskeys, ouzo, Pernod, Martini and liqueurs.
Different wines (from the wine producers of the island).
Different milk shakes and fruit juices.
Also we offer different dishes!
We can offer you different salads, toasts, omelettes, pizza and
pasta dishes as well as many Greek specialties (like mousakka, gyros and souvlaki).
We look forward to your visit !
The café bar "Helios" (Ilios) is in the proximity of the hotels Rhodos Royal, Esperides, Esperos Palace,
Esperos Village, Colossos, Palladium Alilia and Elysium - only a few minutes by feet!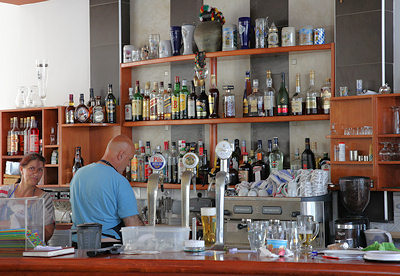 Bar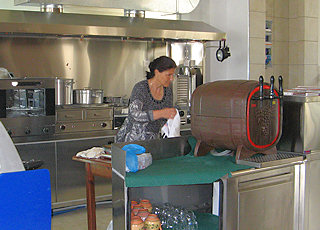 Kitchen for restaurant service