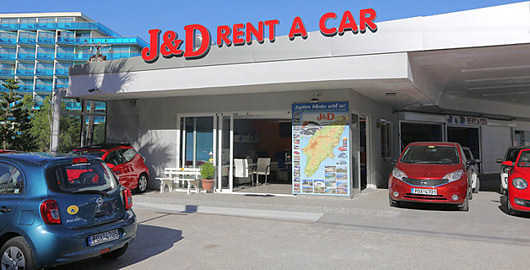 We are pleased to welcome you as our guest on this website!
Since many years our office "J & D RENT A CAR" is next to the hotel Calypso and approx. 1.5 km apart from the center of Faliraki.
Our business is flexible and reliable, our client base is increasing annually. Every year we add new models to our fleet.
With our modern and maintained vehicles your Rhodes stay becomes the non-standard experience.
Enjoy - independently of organized travels - the beauty of the landscape and the objects of interest on Rhodes.
Drive - whenever you want - to your favourite beach or visit the sights and your favourite restaurant.
We also bring the car to the airport or to your hotel on request.
Special rates for car rental on Rhodes. Please ask for our special prices and rental offers.
Please, you obtain the current prices for the respective season by phone, fax and e-mail or if you come to our office in Faliraki.
You can pay the rates for the car also with all credit-cards (Visa , Master , Amex from every where) and visa electron and maestro and ec from office.
In our office you can change your money (if you come from a non-EURO-country) and cash your travellerīs cheque - on easy terms. Since 1991 we are the agency for traveler's checks of Thomas Cook and Visas on Rhodes (for example your contact person at the loss of your traveler's checks).

Our car-service for a wedding on Rhodes:
We offers you the chance to rent a car (for example a VW Beetle Cabrio) for the drive to the City Hall or church for your happiest day on Rhodes, one of the most beautiful and romantic Mediterranean destinations.
Please ask us and we make an offer for you!
On the page "Our cars" we introduce our fleet of cars (about 150 cars). Also you find general information and conditions to rent a car on the page "General information". On our page "Our office" you find a plan to find our office in Faliraki. On the page "Contact us", you find our e-mail-address, our phone- and fax-numbers and our postal mail adress. And on the pages "About Rhodes" you find information about some objects of interest on the island of Rhodes.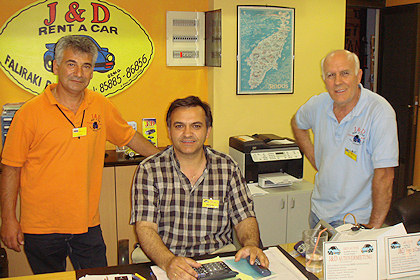 Manager Jiannis Korfiatis (middle) and his employees Lakis (left) and Demis (right)