Half past seven in Colymbia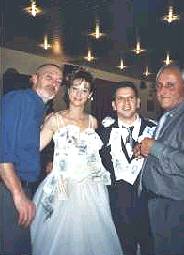 We are among the last guests to arrive but the evening is young. The traditional preparations for the meal were worth the effort. It's delicious! The musicians begin to play. The first dance is for the bride and groom. After the dance, the family goes to the pair and pin money onto their clothes. This is the reason you were given a flower with a pin at the house of the bridegroom! The party begins with a "dedicated" dance. The musicians don't have a set price to play at the wedding. About every 5th dance is a "dedicated" dance. The singer says, "This dance is dedicated to Lefteris". Lefteris then starts to dance and one by one, friends or family, mostly men come to him and touch him with a 1000 Drachma note, which they then put into a cardboard box on the stage in front of the musicians. This "honouring" with money says to Lefteris, "you're a good dancer!" The money of course is the wage for the musicians. When the bridegroom danced, naturally, his father, uncle and brothers had to show more respect, which means more Drachmas. The dedication songs continue all evening and we were told it's not unusual for every musician to earn SFr 1000 at a wedding. There is always someone dancing, there are no breaks. Everybody enjoys themselves. For the women it's a good excuse to let their hair down and enjoy themselves.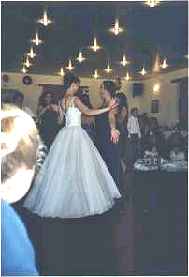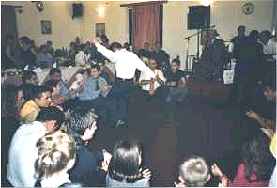 Sometimes in the early morning, tired and happy we went home to bed.
Monday morning surprisingly early Anthony Quinn Bay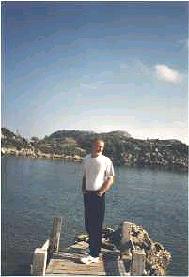 Just the cure for a hangover! Blue sky, sun, no wind and a long swim in the sea. Absolutely fantastic!
Busy, busy, busy
Invited here and there for coffee and lunch, apéritif and evening meal at parents from Lefteris. There is an old saying; "beware of Greeks bearing gifts". Our suitcases are full up again. This time I promised myself as always, it wouldn't happen but it did. How can you say no?
Tuesday
After breakfast at Linda's, who complained again that she hadn't seen much of us, we decide to drive around the island for the day. It's interesting to see the hotels that are mentioned in the Forum. Mägi wrote a list of the names of the hotels so that we could see them one to one. Thinking of booking into Filerimos Hotel next year! We've decided - after saying goodbye to everybody already - that we will have this day and the evening to ourselves. This would have been possible of course if Mägi hadn't had the Handy turned on. Already two offers of coffees and evening meal. Filled the car with Petrol as Jiannis is coming to collect it a 5 o'clock. Arrived home to find a plastic bag outside the apartment door with olives, olive oil and Ouzo, a present from Steve's mum. Jiannis comes and says he will collect the car the next day and to put the key under the seat. He is about to go to the olive mill in Kalithies to press his olives. Would we like to go? How can you refuse his offer!
Olive mill Kalithies
I won't go into technical details about the mill but if you're in Greece at this time of year it's well worth a visit. Jiannis has told us he has about three or four hours to wait, would we like to go for an Ouzo? We say yes and leave the mill again with freshly pressed olive oil, a gift from people we've never seen before.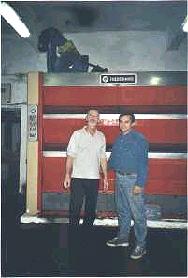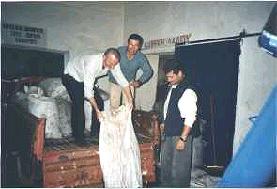 The taverna is just opening. The owner is a cousin of Jiannis. We tell him we just take a drink as we are invited for dinner. No problem, he says, just a drink! He forgets to mention the shrimps, fish, chips and salad. It's funny, whenever I order an Ouzo, I get an Ouzo. But when a Greek orders an Ouzo for you, you get Ouzo, fish, cheese balls, chips, etc. There is no way of stopping these people. Worse was because we came without any preparation, we didn't have one Drachma between us to pay for the meal. Said goodbye to Jiannis until next year and left with a bottle of Champagne as a gift. Came home and had a good talk with Steve, the owner of the Colonial Apartments.
Wednesday morning at 5 o'clock as the day begins
Steve's mother, who has kept an eye on us over the past days, comes to wake us up. The cat is waiting for some sausage. We've had the best weather possible for this time of year. This morning it's cold wet and windy. In one way it's good because it's preparing us again for the weather we can expect when we arrive home. Next year …